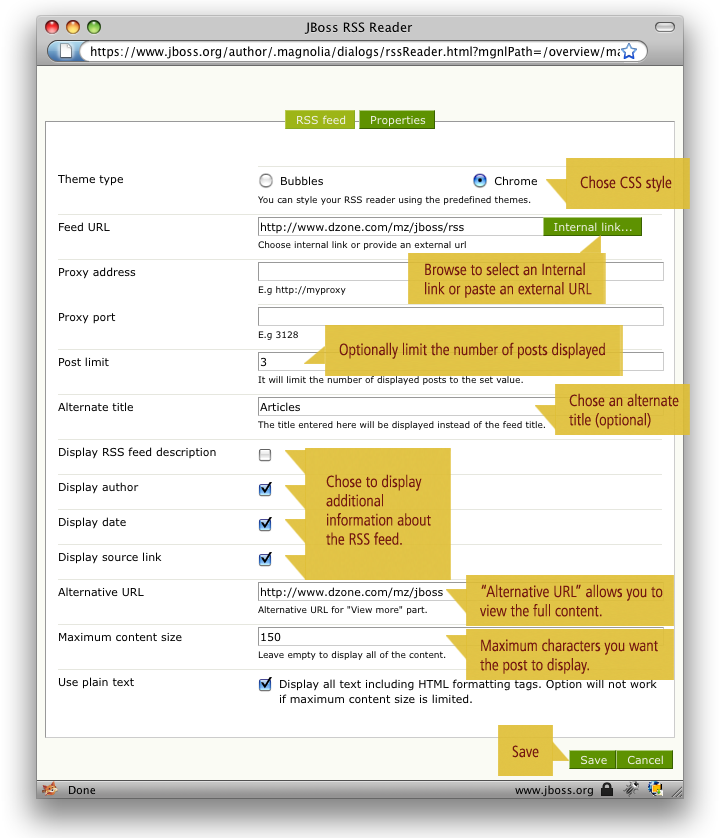 RSS Reader
As the name suggests this paragraph allows you to display posts from an RSS feed.
The configuration dialog allows you to control exactly what is displayed and the style it's displayed in.
Once you've entered the feed URL you can configure the number of posts to display together with any additional information such as the author, date, and source links. You can also choose the maximum number of characters to display in each post and specify whether you want to show all text including HTML formatting tags.
The feed title can be changed if necessary and the description hidden if it's not required.
Finally you can specify a link to the page where the RSS feed comes from in the 'Alternate URL' field. This is useful if you want to direct the user to the originating site rather than to a web page showing the full RSS feed.
Chrome style
Slashdot
Mar 21, 2018 6:00 AM by BeauHD
An anonymous reader quotes a report from Bloomberg: Chinese companies are taking advantage of America's financially strapped higher-education system t…
Mar 21, 2018 3:00 AM by BeauHD
A new document from the Port of Los Angeles indicates that the company is moving ahead with plans to build a "state-of-the-art" industrial manufacturi…
Mar 20, 2018 11:30 PM by BeauHD
dmoberhaus writes: In 1974, Stephen Hawking made a bet with Nobel Prize-winning cosmologist Kip Thorne about a black hole. The wager was a subscriptio…
Category: Technology
View more slashdot
Bubbles style
Slashdot
Mar 21, 2018 6:00 AM by BeauHD
An anonymous reader quotes a report from Bloomberg: Chinese companies are taking advantage of America's financially strapped higher-education system t…
Mar 21, 2018 3:00 AM by BeauHD
A new document from the Port of Los Angeles indicates that the company is moving ahead with plans to build a "state-of-the-art" industrial manufacturi…
Mar 20, 2018 11:30 PM by BeauHD
dmoberhaus writes: In 1974, Stephen Hawking made a bet with Nobel Prize-winning cosmologist Kip Thorne about a black hole. The wager was a subscriptio…
Category: Technology
View more slashdot