JUDCon 2014: India is A Wrap!
JUDCon returned to Bengaluru for the 3rd consecutive year. The conference was a two-day, three-track event packed with 30 sessions and two labs. JUDCon:India is the world's most heavily-attended developer conference focusing on Enterprise Application Development within the JBoss Community.
JUDCon India 2014 was two days filled with informative sessions and explaining the motivations and proper use of some of our most exciting projects, both building within and extending upon JBoss technology.
Revisit this page oftent to see photos and presentations from the event.
---
What's a JUDCon?
The JBoss Users and Developers Conferences are developer gatherings held around the globe to give JBoss users the chance to talk to and collaborate with leaders in the JBoss Community, and to allow the project leads and engineers to learn from and collaborate with end users.
The JBoss Core Developers, along with the open source community, create and support the projects that drive innovation and help lead development in standards bodies like the Java Community Process, the Apache Software Foundation, OASIS, W3C and other open standards organizations.
JBoss is the leader in cutting edge open source technology for developers World-Wide because JBoss gives developers choice, and helps developer be more productive and get things done.
Our broad product portfolio is substantially based on the Java EE platform, but contains platform-neutral technologies such as Project Arquillian, Project Snowdrop for Spring integration, and projects that give developers JVM-hosted languages including Scala, Clojure, Ruby and Ceylon which are able to seamlessly tap into the power of the Java EE platform.
Revisit this page often to see find presentations posted from the event.
---
Photos from JUDCon: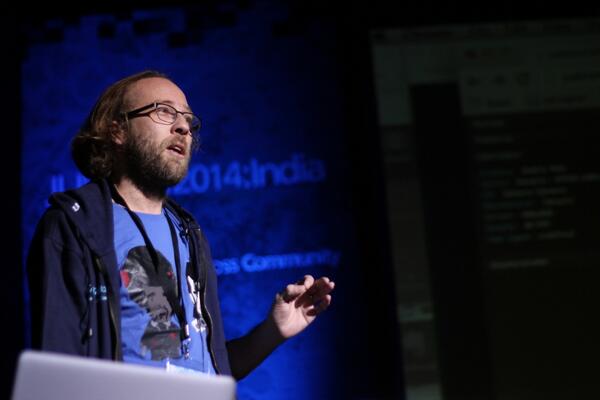 ---
Blogs and Articles about JUDCon 2014:India
---
Comments about previous JUDCon events in India
"All in all JUDCon set a new standard for developer conferences in India."

"I liked most of the talks conducted by JBoss rockstars ... JUDCon Rocks!"

"It has been a great learning experience."

"It was one of the most organized and well planned events I have attended in a long time." - Sreehari, Global Head - Technology Solutions, TCS