Overview
Red Hat JBoss Portal is your ideal lean portal choice for building high-impact, self-service applications. JBoss Portal 6.1 features new developer functionality as well as mobile and social integration features. Offering a lightweight footprint, JBoss Portal provides reliability and powerful performance with a track record of near-zero downtime and maintenance. JBoss Portal is seamlessly integrated with Red Hat JBoss Enterprise Application Platform, giving it high-availability, clustering, caching, failover, load-balancing and distributed deployment features. This portal solution is a popular component in "best-of-breed" solutions where integration with existing systems and other Red Hat JBoss Middleware are a priority.
Lean Portal Performance and Scale
Built on Red Hat JBoss EAP for high-performance, scalability and light footprint.
Accelerate Development
Includes plug-ins for Red Hat JBoss Developer Studio and JBoss Portlet Bridge for intuitive, streamlined application development with simplified integration.
Leverage existing IT value
Standards-based framework provides the flexibility to integrate with existing IT systems without sacrificing stability and reliability.
SOCIAL MEDIA INTEGRATION With OAuth authentiation and authorization, users may log in with their Facebook or Google credentials. Customize a user's experience with their social media data.

MOBILE WEBSITES Design websites that automatically adapt to mobile screens or redirect to a mobile website version, based on user-agent detection.

PUBLIC NAVIGATION APIS Tailor your users' navigation experience with customized menus.

CONTEXT AND DEPENDENCY INJECTION (CDI) SUPPORT Boost productivitiy and flexibility with CDI support - a simplified approach to integrating various kinds of components in a loosely coupled but typesafe way.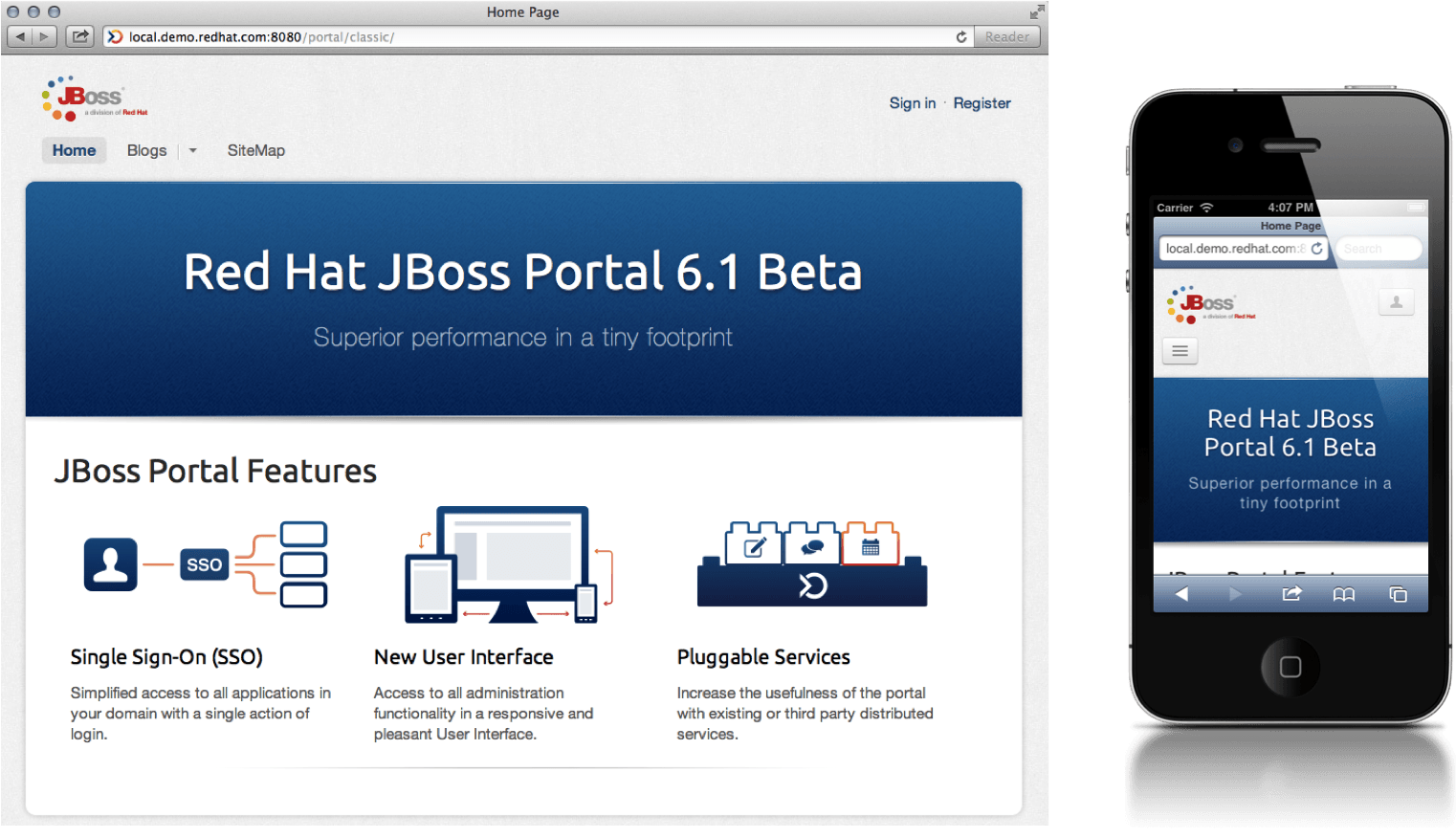 Resources
View More Resources
Buzz