Want to learn more?

Learn from the experts how to deploy, manage and auto-scale JBoss Enterprise Platform 6 and JBoss AS 7 applications in the cloud by leveraging the OpenShift platform-as-a-service. This technical content is presented by OpenShift and JBoss developers for developers.
Check out these articles
Here are some interesting blogs about JBoss Enterprise Application Platform 6 and JBoss AS 7 at OpenShift:
Got questions? We have answers!
Learn more about JBoss & OpenShift:
Learn more about OpenShift PaaS:
Ready to take your JBoss application to the cloud? Getting started is free!
Excited about the new features in JBoss Enterprise Application Platform 6 and JBoss AS 7 like EE6, CDI/Weld, a small memory footprint and lightning fast startup times? Want to experience all this goodness in the cloud? OpenShift makes it easy. OpenShift is Red Hat's free Platform-as-a-Service (PaaS) that enables developers to quickly deploy applications to the cloud without having to worry about configuring and managing the stack. You're just minutes from your application being live in the cloud. Sign up for OpenShift today!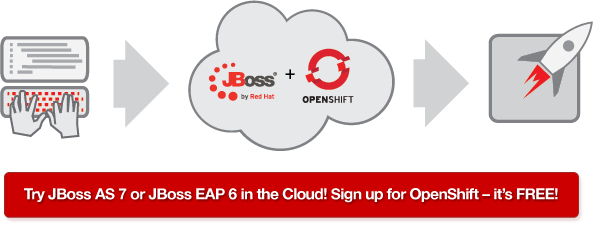 Get Started!
No Vendor Lock-in
Is application portability important to you? With JBoss Enterprise Application Platform 6 and JBoss AS 7 built in, OpenShift is the first PaaS to support the full Java EE 6 standard. This means you can take JBoss applications developed locally and migrate them effortlessly onto OpenShift or the other way around. No vendor lock-in. No half-baked, or limited "standards based" APIs that require you to recode your applications in order to run on and off the Cloud.
Deploy to the Cloud Quickly
OpenShift makes it easy to deploy your enterprise Java applications to the cloud. Just simply upload your application code with Git using your favorite IDE. Only got source and haven't downloaded JBoss Developer Studio to build it yet? No problem: just upload the source and OpenShift will build and deploy the application for you! OpenShift supports the development tools you already use including Maven, Jenkins and Eclipse/JBoss Tools. True building and deploying in the Cloud! Deploying Java EE 6 applications to OpenShift takes just minutes!
Developer Friendly
OpenShift and all of its associated tools have been built by developers for developers. We've spent a lot of time working to ensure that the tools you use like Eclipse+JBoss Tools (JBoss Developer Studio), Jenkins, Maven and Git, are the right ones for the widest range of developers. Seamless integration between JBoss Enterprise Application Platform 6 or JBoss AS7, with OpenShift and these tools makes developing and deploying to the cloud easy. The lightning fast boot time for the JBoss server (typically under 4 seconds!) also makes it very efficient as the basis for a standards-compliant Cloud runtime and removes a lot of overhead usually associated with developing in the cloud or with other application servers.
Security and the Latest JBoss Features in the Cloud
Concerned about security in the cloud? Both JBoss Enterprise Application Platform 6 and JBoss AS 7 on OpenShift run on top of Red Hat Enterprise Linux (RHEL.) This gives developers an on-ramp to experiment with the latest features from the community or to start with an Enterprise-grade platform on top of the Linux distribution most trusted by Enterprises. We deal with updating and patching RHEL and JBoss so you can focus on code and customers, not the stack.
Freedom of Choice
OpenShift supports and manages multiple frameworks, languages, and middleware so you don't have to. Besides Java, OpenShift supports Ruby, Node.js, PHP, Perl and Python. OpenShift also supports a variety of datasources including MySQL, PostgreSQL and MongoDB.
Scale your Applications
Whether or not your application was designed to take advantage of the elasticity of the cloud, OpenShift makes it easy to enable scaling, allowing you decide under what conditions to scale up or down.
OpenShift is Free
This means there are no excuses for getting started with the cloud today! Whether you choose OpenShift for its super-fast application deployment, easy-to-use command line interface and built-in tools, or powerful scaling in the Cloud, Red Hat has got you covered. Need more resources or storage? Pricing plans start at just $42 per month. For more information visit: http://openshift.redhat.com/pricing.