About the Infinispan Project
Infinispan started life in late 2008; the core developers of JBoss Cache, POJO Cache and JGroups got together with the mission of building a distributed, low-latency in-memory key-value store based on existing components. The group had extensive experience in clustering, shared data structures and group communications, and realised that some components could be reused in, allowing them to quickly build out the basics.
Code-named Horizon (for horizontally scalable), the first release was labeled 4.0 (a successor to the JBoss Cache 3.2 series). The project was given the official name Infinispan and soon Infinispan's vision and high-level goals were publically announced and blogged about (in April 2009).
A series of alpha and beta releases followed, with Infinispan 4.0.0 made available in February 2010. Infinispan 4.1.0 followed in September 2010, and 4.2.0 was released in December 2010. Infinispan 5 had a long series of alpha and beta releases, and is due to be released in July 2011.
Check out the new Infinispan Book!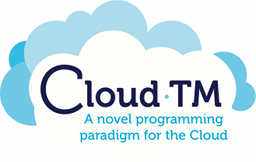 Infinispan is used in the EU-funded Cloud-TM research project to build a distributed, cloud-scale software transactional memory implementation. For more information, visit http://www.cloudtm.eu.
Sponsors
JetBrains has kindly donated an open source IntelliJ license.

CloudBees has kindly donated a continuous integration environment