Tutorials
The TicketMonster e-Commerce Application - Tutorials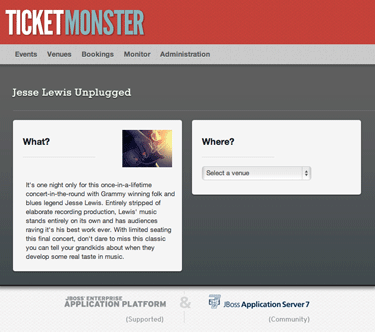 TicketMonster is an example eCommerce application that demonstrates the features of Java EE 6, JBoss Enterprise Application Platform 6 or JBoss AS7. TicketMonster provides a reference for you, both when you want to learn new technologies, and when you are building your own application. The application itself demonstrates the multiple view framework choices whether HTML5 + RESTful endpoints, JSF2 + RichFaces or GWT + Errai. The tutorials below walk you through the steps of: setting up a development environment, using JBoss Forge & Maven, defining JPA2 entities, HTML5 mobile development, RichFaces & JSF2, and using GWT & Errai.
Tutorials
Articles
Anton Ahripov of ZeroTurnaround discusses how developers can be more productive using the combination of JRebel and JBoss Forge.
There are many ways of developing mobile web applications. This article is going to show you how to get started quickly using a pure HTML5 based front end which interactions with server side content through RESTful endpoints...
Rendering new or existing JSF applications on mobile devices can be a grueling development task. The RichFaces roject has paved this cow path with the latest 4.1.0 release and showcases it's capabilities in the RichFaces Mobile Showcase.
What is an HTML5 application? This could just as easily be called a "plain old open web" application. AeroGear shows you the way.
This article details the significant files, libraries, and source code for the AeroGear HTML5 mobile archetype and quickstart that are part of the JBoss-AS & JBoss EAP 6 quickstart suite.
Shane walks through some of the innovations within Java EE 6 and why it may be time to take another look.
Have Spring Beans and would like to reuse them within the contexts of CDI? This presentation walks through the simple steps required to reuse your existing investments within Java EE 6.
Learn how CDI and JRebel make you more productive as a developer.
Migration Guides
Describes converting the Open18 application from Dan Allen's Seam in Action from Seam 2 to Java EE 6. Besides introducing Java EE 6, the article describes how to use CRUD scaffolding and application security provided by CDI Query and Apache Shiro. The application will also be upgraded to RichFaces 4.1.
Bert Ertman and Paul Bakker of Luminis have written a multi-part article that covers migrating Spring Applications to Java EE 6 technology. It also consists of sample code a working project. In the series Paul and Bert discuss the rationale for migrating your applications from Spring to Java EE 6 and show you real examples of upgrading the web UI, replacing the data access layer, migrating AOP to CDI interceptors, migrating JMX, how to deal with JDBC templates, and as an added bonus will demonstrate how to perform integration tests of your Java EE 6 application using Arquillian.
Part 1 | Part 2 | Part 3 | Part 4 (Coming Soon)
Shane describes the steps required to move an application from Java EE 5 to JBoss EAP 6 and to Java EE 6 especially CDI and JAX-RS.
Travel along the JBoss Way…
Get Involved