Features
What Is The JBoss Way?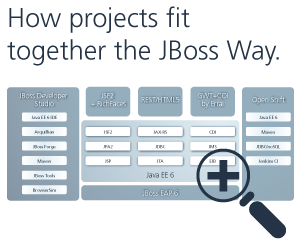 The JBoss Way is a better way to build applications, using modern technologies, with a recommended approach that makes you more productive. We've assembled and integrated some of the best projects available so developers can focus on building their applications easily. The JBoss Way provides some exceptional tooling including JBoss Developer Studio 6, JBoss Forge and Arquillian to increase productivity. There is a variety of choices and innovations available that all build upon the foundations of Java EE 6 and CDI. Whether you deploy your applications locally or to the cloud you'll be using one of the best application servers available. Building applications was never this fun. Follow along the JBoss Way.
Java EE 6
Java EE 6 is a major advancement in simplicity and productivity. With Java EE 6 you are provided with Contexts and Dependency Injection (CDI), Java Persistence API 2, Bean Validation, RESTful services and many other technologies for building modern applications quickly. With the power of annotations, you will notice a significant reduction in the amount of lines of code, classes and configuration settings required to applications. CDI is the cornerstone of building modern applications The JBoss Way. CDI is more than a framework, it's a whole, rich programming model. With JBoss's Weld being the first implementation and the reference implementation, you know you'll be in good hands.
Choice of Views
Interested in building mobile applications with HTML5, jQuery and Java EE 6? AeroGear provides strong support for getting ramped up quickly. Prefer JSF? RichFaces provides some of the best components around, including support for AJAX and mobile devices. JBoss Forge adds the benefits of rapidly scaffolding your JSF pages with just a few simple commands. Want to try Google Web Toolkit (GWT)? Errai has some truly astounding features such as seamlessly integrating with CDI and pushing events to the client.
Learn more about frameworks.
Exceptional Tooling
JBoss Developer Studio 6 has been specifically designed to increase your productivity. It provides support for JBoss Enterprise Application Platform 6 and JBoss Application Server 7. Use JBoss Central to get started building awesome applications in no time. JBoss Forge reduces the ramp-up time learning the new technologies of The JBoss Way with simple keystroke commands. The JBoss Way improves you ability to test with Arquillian. No more mocks. No more container lifecycle and deployment hassles. Just real tests, quickly and simply with Arquillian.
Mobile Enabled
With the ever increasing adoption of moblie devices, you'll need to be able to serve applications to all those tablets and smart phones. The JBoss Way provides support for mobile in many ways. Build your applications upon AeroGear, RichFaces or Errai to ensure support for the latest mobile innovations. Use JBoss Developer Studio 6's BrowserSim to preview and test your applications. Deploy your applications directly to OpenShift and test them from your phone or tablet within minutes.
Runtime Productivity Boosts

However you build your application, you'll want to run it on JBoss Enterprise Application Platform 6 (Beta) or JBoss Application Server 7. Both are certified Java EE 6 servers, offering the full range of APIs and services you need such as Web (HTTP & REST), Remoting, Security, Transactions, Persistence, Messaging, Clustering and more!
Learn more Runtimes.
Cloud Ready
Want to experience all this goodness in the cloud? Deploy projects directly to OpenShift PaaS through JBoss Developer Studio 6. OpenShift makes it easy. OpenShift is Red Hat's free Platform-as-a-Service (PaaS) that enables developers to quickly deploy applications to the cloud without having to worry about configuring and managing the stack. You're just minutes from your application being live in the cloud. Sign up for OpenShift today!
Learn more OpenShift
Travel along the JBoss Way…
Get Involved